Hi all. Welcome back. So you must be thinking what we have in our magical pouch haan? Today we are giving you another piece of software which will help you to type marathi better, simple and in easy way! This free Keyboard Layout Driver is created by Mr. Makrand Gadre owner of gadre.org web portal.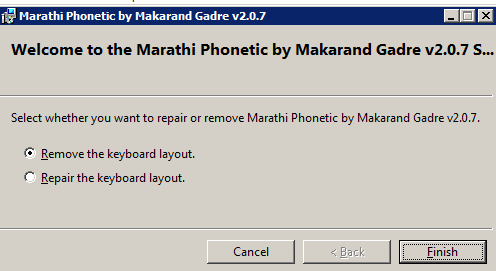 It's Keyboard Layout Driver which you can use like any other IME's (simply for this website…. marathi typing software ) posted on this site or available on internet to type marathi.
We know you have lots of question in mind how can i install, use this Keyboard Layout Driver and is it easy to use with compare to other IME's and Softwares? We are going step by step Installation to use guide.
Compatibility and System Requirements
This keyboard layout works with any computer running Windows versions later than Windows XP and having a standard 102 Key keyboard.
Once installed, this becomes a system wide Devanagari Keyboard layout and is available to all the Unicode aware applications like MS Office Family applications, Notepad, most browsers, and applications / systems running under browsers like Hotmail, Gmail, Facebook and so on. Note: If you are typing in browsers, you need to type slowly because the browsers seem to process your keystrokes rather slowly.
Installation Instructions
Step 1: Get the system set up to handle Complex Scripts.
Note: This is step is required only for Windows-XP and Windows 2003 Server. If you have Windows Vista or Windows 7, your Operating System is already configured to handle complex scripts. Just go to Step 2.
Go to Control Panel / Regional and Language Options – Go to the Languages Tab If "Install Files for Complex Scripts…." is "On" i.e. checked, go to Step 2, otherwise check it "On" and press OK. Windows will ask for the Windows XP CD and most probably will ask you to reboot. After reboot, go to Step 2.
Step 2: Install the Marathi Phonetic Keyboard Driver
A) Download and Unzip the Keyboard Driver zip file on your hard disk.
B) Locate the folder where your unzipped and run (double click) SETUP.EXE.
C) Go to Control Panel / Regional and Language Options.
D) Click on the Details button under the "Text Services and Input Languages" group.
E) Click on Add and Add Your Input language, Check on the Keyboard layout / IME checkbox and select "Marathi Phonetic by Makarand Gadre v 2.0.4". On Windows Vista or Windows 7, this will be already done so you need to just verify.
To use the keyboard, use Left Alt-Shift to cycle through the installed keyboards. You can also use the language button on the windows Task Bar.
If you want to use the keyboard for another language which uses Devanagari (e.g. Sanskrit, Hindi, Konkani, Nepali), Click on "Add…" choose your language, click on the keyboard then click on "Show More…" and locate and choose "Marathi Phonetic by Makarand Gadre …", and Press OK.
How to type in Marathi
This is a phonetic keyboard layout for typing Devanagari text. To goal is to be able to type transliterated Devanagari text using the standard US English keyboard layout. Effort has been made to have this layout reasonably phonetic. Once the keyboard is correctly installed, task bar will show something similar to
Click on the "EN" and a pop-up will allow changing the current keyboard
Clicking on "Marathi (India)" will select Marathi as the current input language.


LeftAlt-Shift can be used to switch between English and Marathi.
We hope that this Devanagari Keyboard Layout Driver will be helpful for better, faster marathi typing needs! Do leave us feedback, comments on this post. Be our page on facebook, See at sidebar. Like and share this post on facebook, google+ and twitter. Enjoy your saty on MarathiTyping.com and keep visiting for more marathityping related free stuff.
Update! 04-08-2012
Recently we contacted Mr. Makarand Gadre and they explained this software is not IME and its Keyboard Driver. Read more information about same from them.
This keyboard is not an IME. This is a windows keyboard driver. IME (Input Method Editor) is a program that runs in the background, intercepts characters, and substitutes them for other characters. This keyboard driver is not a program; it directly maps keystrokes to unicode characters, just like an english keyboard driver. For exmaple, English keyboard maps the key-scan code 16 to the letter "Q" ; This keyboard driver maps the key-scan code 16 to "ॐ" instead. This happens at the windows system level. There is no program running in the background.
MarathiTyping.com Team!