Hi friends, We know all of you are always waiting for new marathi typing resource. And today we are posting android smartphone platform related marathi typing app. We all know we are typing on Desktop, Laptop, And on Websites too. But Its always been hardtime to find latest unicode supported android smartphones and app. So here is the app which will guide you for how to type in marathi on android smartphone. Remember you need unicode supported android smartphone to get these characters visible.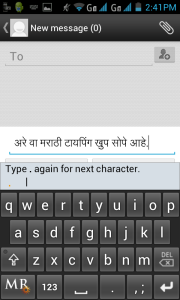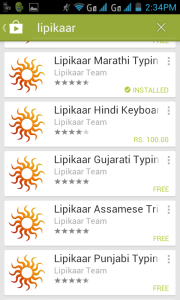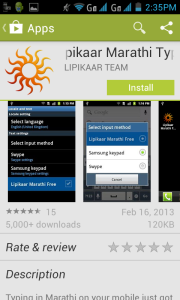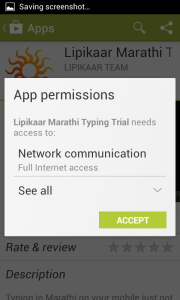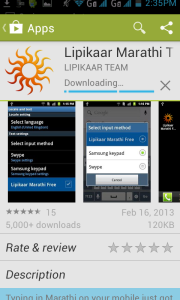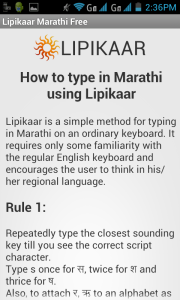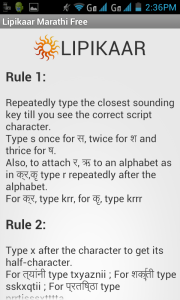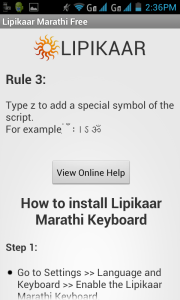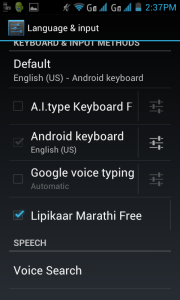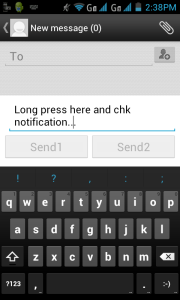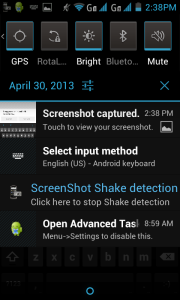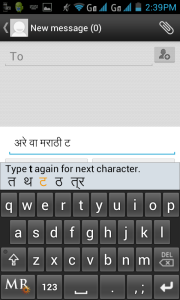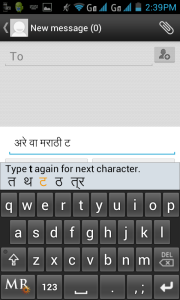 If you are on Android 4.0 + version then your phone will support unicode typing.
Step 1:
Goto Play Store and search for Lipikaar and select Lipikaar Marathi Typing Trail. which is limited to 100 words we are still not sure it onetime limit or Lifetime limit. We will update it soon. Once installation done follow step 2.
Step 2:
How to install Lipikaar Marathi Keyboard
Go to Settings >> Language and Keyboard >> Enable the Lipikaar Marathi Keyboard.
Step 3:
Open you desired application, for example, New SMS Message.
Keep your finger pressed in the typing area.
From the options, select "Input Method".
Now select Lipikaar Marathi from the list.
The keyboard is now activated and can be used for typing.
*Use the EN/MR key on the keyboard to toggle between Marathi and English.
Step 4:
How to type in Marathi with Lipikaar
Rule 1:
Repeatedly type the closest sounding key till you see the correct script character.
Type s once for स, twice for श and thrice for ष.
Also, to attach र, ऋ to an alphabet as in क्र,कृ type r repeatedly after the alphabet.
For क्र, type krr, for कृ, type krrr
Rule 2:
Type x after the character to get its half-character.
For त्यांनी type txyaznii ; For शक्‍ती type sskxqtii ; For प्रतिष्ठा type prrtisssxtttta
Rule 3:
Type z to add a special symbol of the script.
For exampleं ़ ँ ः । ऽ ॐ
Above steps are from Lipikaar Play store page
We hope you will enjoy this article. Leave us comments, feedback and your questions we will revert our reply.