Hello and welcome all.
Today we are going to teach how to install and use Hindi/Marathi image editor app. In this app they have given some free styles like calligraphic fonts. Just follow the steps to do same.
Step #1. Go to google play store and search Hindi photo editor and install app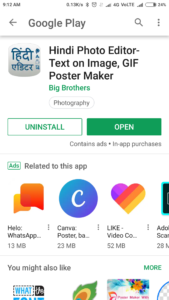 Step #2. Now Open app and click on + button. You will get so many layers to add.
Step #3. Now click on Add Text and using your unicode keyboard type marathi/Hindi text like typed in image below. And click done.
Step #4. Now you can hold those squares and resize the text layer. or you can hold that diagonal up-down arrows to make text bigger or smaller.
Step #5. Now Click on fonts options and and select IN-BUILT tab to choose font style.
Step #6. Now you can add additional styles to your text.
We Hope you will enjoy this.