Very good morning friends. We know you guys, girls always looking for new software's for marathi typing in this website and for same reason we are always updating our site with new and helpful contents for you.
Today we are giving you most awaited [ sorry we are posting it after long time ] marathi typing software its Google Transliteration IME for marathi typing. Google and specially google indian engineers had did hardwork for making Google Transliteration IME to type in 22 Indian languages. And today we are posting about how to use it for marathi typing.
Step 1 :- Download.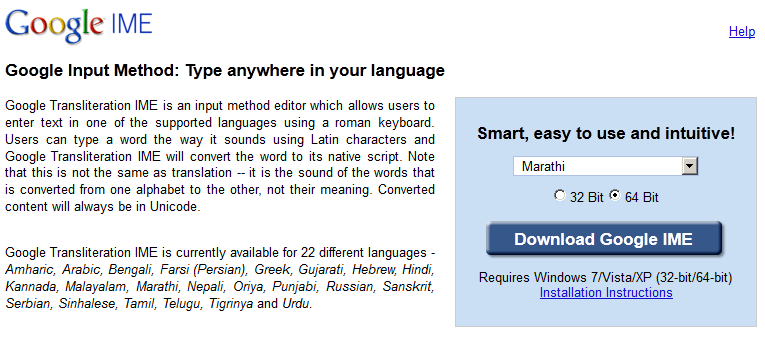 1. Goto http://www.google.com/ime/transliteration/
2. Now from drop down menu select "Marathi"
3. Then select your CPU's type either it have 32bit or 64 bit processor. To know your processor type Right click on your My Computer–> Properties and check system type – 32bit or 64 bit operating system.
4. Now click on Download Google IME Button.
Step 2 :- Install
1. Now after downloading IME double click on .exe file and let it install IME. You still need internet connection while installation.
2. After installation you will get successful installation message.
Step 3 :- Settings
For settings Please watch videos given below for both Win XP and other versions of windows videos created by khandbahale.com
These videos will help you in detail while setting google IME.
We hope you all will enjoy this nice, simple, easy to use software. Please leave us feedback, comments and your questions for installing this IME.